Commercial Gas Safety Certificate
Offering CP42 Gas Safety Certificates across Gravesend, Medway, Dartford and all other surrounding areas.
Gas safety is not only your legal obligation, it's also a serious health and safety concern if not given the attention it needs.

Gas safety is not simply a legal requirement; it's also a severe health and safety hazard if not carried out correctly. Every year, across England and Wales, about 60 people die from carbon monoxide poisoning, and if you don't offer gas safety checks the respect and attention it deserves, you're putting your employees at risk of gas explosions.
Therefore, it is very important to have your appliances serviced by a licenced gas safe registered engineer. Not doing so, you are causing damage to your equipment or, in the worst-case situation, making them dangerous, putting you and your staff in danger.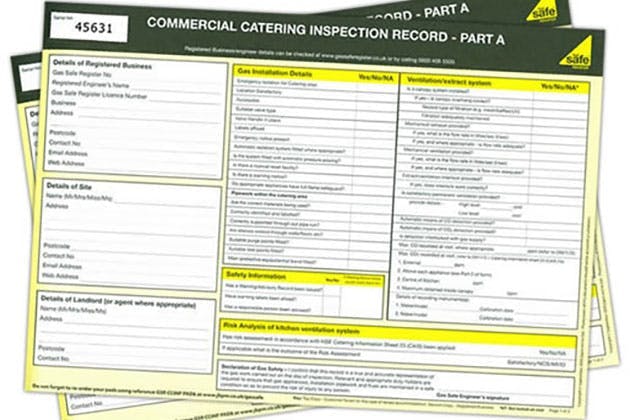 What is a commercial gas safety certificate?
A commercial gas safety certificate is a document issued by a gas engineer and it certifies that any commercial gas appliances in a business have met all of the regulatory standards for gas safety installation. All employers must guarantee that all gas appliances are kept in a safe state under "The Gas Safety Installation and Use Regulations 1998 and 2018." An annual inspection is usually thought to be an excellent practice for commercial businesses.

Commercial kitchens are subject to strict laws due to the required ventilation and the potential for fire if proper procedures are not followed. In addition, if the equipment is not maintained, it might become potentially harmful, thus it must be tested for leaks and defects on a regular basis by qualified Gas Safe registered engineers.
They cover commercial kitchens in particular, such as:
- Restaurants, cafes, and nightclubs are all available.
- Fast food joints and take-out joints Catering companies, mobile or permanent kitchens
- Daycare centres, nursing homes, and care homes
- All kitchens in both private and public sectors
Do I need a CP42 Gas Safety Certificate?
If you have a commercial kitchen with gas appliances, such as cookers, ovens or even a gas hob, then it is important for you to get a CP42 Gas Safety Certificate. You have a legal responsibility to make sure that all gas equipment inside your commercial kitchen is thoroughly tested, inspected and certified by a Gas Safe Registered engineer. This should be carried out at least once a year, regardless of whether you have natural gas or LPG. A CP42 Gas Safety Certificate is valid for 12 months.
Many people assume the landlord is responsible for this when they are leasing or renting a property, however, this may not be the case. Most leases have clauses transferring responsibility for gas safety to the leaseholder. If you're unsure, consult your lawyer.


How we can help
BCU Plumbing is a Gas Safe registered company, offering CP42 Gas Safety Certificate to commercial businesses. We offer CP42 Certificates, helping to keep your insurance valid and your valuable customers and coworkers safe. Our gas safety engineers are trained and fully qualified to service commercial gas appliances in your catering business.

We ensure all service checks are completed to the highest standards and meet the requirements set by Gas Safe, so you can be assured you are in safe hands. You will be glad to know that we are Gas Safe registered, therefore fully qualified to carry out a range of work involving gas appliances.
The following are some of the commercial catering gas services we provide:
- Pressure testing, maintenance, and repair of gas pipelines
- Gas catering equipment installation and certification
- Investigation and repair of a gas leak Installation and repair of gas interlock systems
- Inspection and certification of the extraction canopy
- Installations of commercial kitchen hot water boilers

If you would like to know more about what we cover, please get in touch with our team throughout Gravesend, Medway, Dartford and the surrounding areas.
Want to know more?
If you are ready to get your commercial kitchen serviced and have a qualified heating engineer issue a CP42 Gas Safety Certificate, get in touch with our team today by calling us on 07712 172171 and we will be happy to help.
We are available throughout Kent, including Gravesend, Medway, Dartford and all other surrounding areas.
Our heating engineers will work with you to ensure that your commercial kitchen is safe and compliant with all current requirements.